The Days and Nights Festival Invites you to a very special opportunity to participate in a free seminar with
SAT CHUEN HON!

Thu, October 5, 2017
1:00 PM – 3:00 PM PDT
The Henry Miller Lab
3728 The Barnyard, Suite G-23
Carmel, CA 93923
(two classes and two seminars are offered, please check complete listing)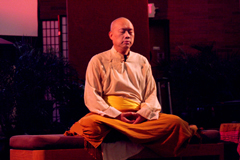 at the Henry Miller Lab at the Carmel Barnyard.
Read about Sat Hon here. http://www.sathon.net/index.html /
(The site includes a video of Sat Hon and Philip Glass).
'When the heart speaks, the mind finds it indecent to object.'

The seminar is an introduction by Sat Hon to the 3000 year old QIGONG, an exercise composed of repetitive movements, often gently stretching the body, increasing fluid movement (blood, synovial and lymph) and building awareness of how the body moves through space.
Quigong is not only a therapeutic practice but also a way of life and harmony, spiritual fullfilment & longevity!